Capt Ken Middleton


Originally from the Pacific Northwest and ready for a career change, Capt. Ken sailed to/from Hawaii and the mainland a few times in the early 1980ís before settling down here for good. Ken worked as a captain aboard various dinner cruise, sailing, diving & fishing charter vessels for the next year as he started up his own firm, Tradewind Charters & Weddings. He has grown the company into a full service Five Star operation that caters to corporate groups, families and wedding couples that desire the very best service available in the islands. Specializing in unique wedding locations above, on and below Oahu, he and his staff look after every need of wedding couples to make their experience delightful and stress-free. Ken and his wife, Rosalie also operate Secrets Beach House, a very private vacation rental home you'll want to check out for your stay in the Islands. Youíll often hear their 10 year old son and 7 year old daughter chattering in the background when talking with Ken.
Tony Grillo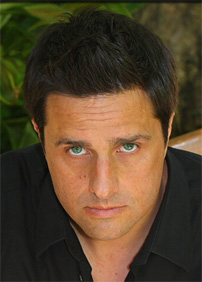 As a dedicated long time photographer, Tony and his associates have shot fashion and news photography, specialize in wedding photography and will provide you with the latest cutting edge digital photographic services. An expert in creating digital photo albums, you'll want to take a serious look at ordering one of these museum quality heirlooms to share your wedding day memories. Be sure to set an appointment with our office so you can see firsthand one of these works of art.
Tony is also an actor who you can see in action on one of the most watched TV shows, "LOST" as well as other shows filmed in our beautiful islands of Hawaii.
Capt. Ralph Reda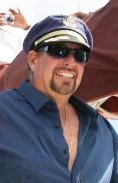 Capt Ralph is one fun guy whether you are singing along with him on the guitar, enjoying a whalewatching cruise or he is performing your wedding ceremony at sunset aboard the Love Boat. Count on him for safety and local knowledge along with lots of enthusiasm and laughs as you sail the Honolulu coastline.
Mel Hantonosas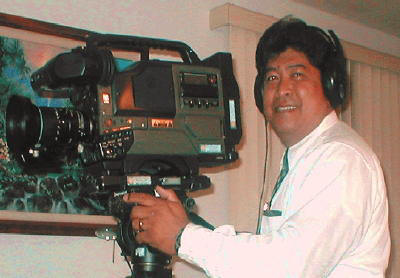 Mel Hantonosas is another FUN Guy you want at your wedding. Mel has been shooting Videography professionally in Hawaii for the past 15 years and has been a part of our Team for the past 10 years. His skills and editing studio utilize the Industryís latest technology so your wedding/reception video will look itís very best. A background in Computers & Art permits him to mesh these critical elements into your Video project. With family on Oahu and the Philippines, Mel is our International Agent, fluent in 3 languages. He immigrated to Hawaii over 20 years ago and, with his wife, Heidi has four children ages 5-19 years old.
Tom Lee


Tom Lee, special agent, racecar driver & host extraordinaire. Tom is a longtime resident of Hawaii having escaped the communist regime of Viet Nam back in the 1970ís. Fluent in Japanese, Chinese, Vietnamese & English his business background has kept him busy driving VIPs like our wedding couples for the past 15 years. Count on Tom for an entertaining drive to and from your wedding location.
May Nguyen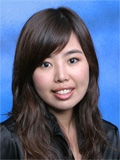 A master artist with your nails, hair & make-up she'll help you achieve the look you desire on your wedding day. Her calm & friendly demeanor will put you at ease in your hotel room as she helps you get ready. Years of professional experience assures you that you'll look your very best on your wedding day.
Lou Trusty


Lou's background is in underwater cinematography shooting underwater film projects around the world for National Geographic, NOVA, NOAA and independent projects for many studios. We call on Lou for our occasional underwater wedding photo & video shoot. Count on him for exceptional work and good company.
Romi Kasperski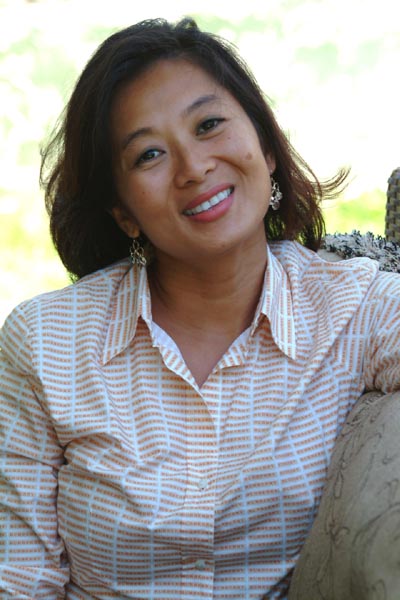 Romi hails from Australia, although she's originally from Cambodia and is married to John, a Lt. Col in the US Marines. Her background and experience abroad in the hospitality and event planning industry makes her a great fit with our Ohana of partners. Much of your correspondence and wedding day details will be arranged through Romi over the phone/email. She is often on site to help with coordination details, too.
David Asing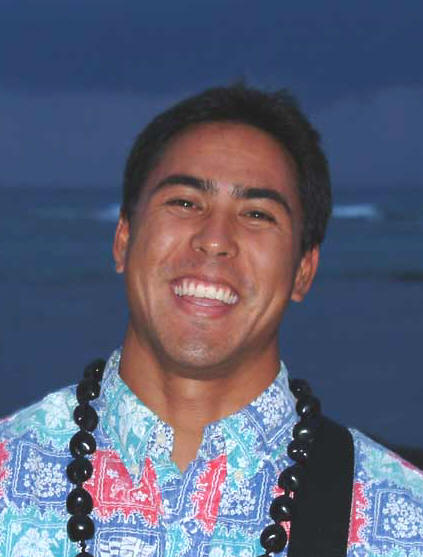 David is a former high school math & music teacher who transitioned to full-time music a while back. His ready smile, nimble fingers and easy going manner is a perfect fit at our wedding locations. Blessed with a great voice and accompanying himself on acoustic guitar or ukulele he'll serenade you with the Hawaiian Wedding song and other Hawaiian favorites.
Sharene Boulas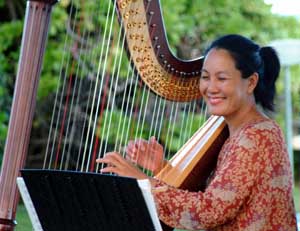 Sharene has been playing the harp for over 25 years, professionally for close to 20 years. Her impressive resume includes a number of years playing for the Honolulu Symphony, teaching harp to children in the community, evening restaurant gigs and playing at thousands of weddings/receptions. Sharene also stays busy raising her two children, 10 & 7 years old. You'll find Sharene just as sweet as her beautiful music.